Images from 2021 Yellowstone photography tours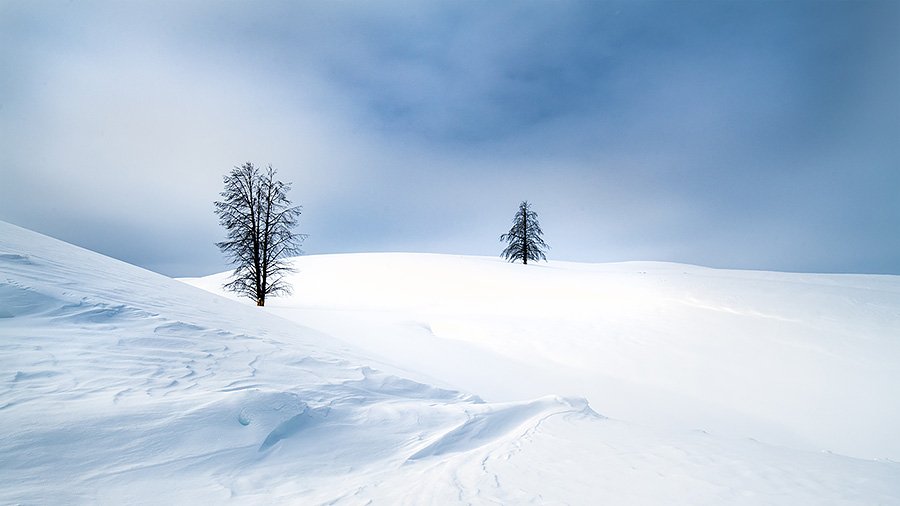 Yellowstone's Vast Landscapes and Incredible Wildlife
One spot open for my 2022 Yellowstone photography tours…more details
This first image is of the barren, windswept hills and dead trees found in this vast region of Hayden Valley in Yellowstone National Park, an area visited during my Yellowstone in Winter photography tours. It's not uncommon for this area to be closed off during the winter as the wind can pile snowdrifts across the road, too deep for even the PistenBully groomers to keep up with. Weather permitting, Hayden Valley in Yellowstone offers plenty of great landscape images, especially for minimalist compositions. Bonus points when a fox, coyote, or perhaps a pack of wolves, make their way into the scene. Even just a trail of pawprints from the critters acting as a leading line into your shot can make for an even more interesting photo opportunity.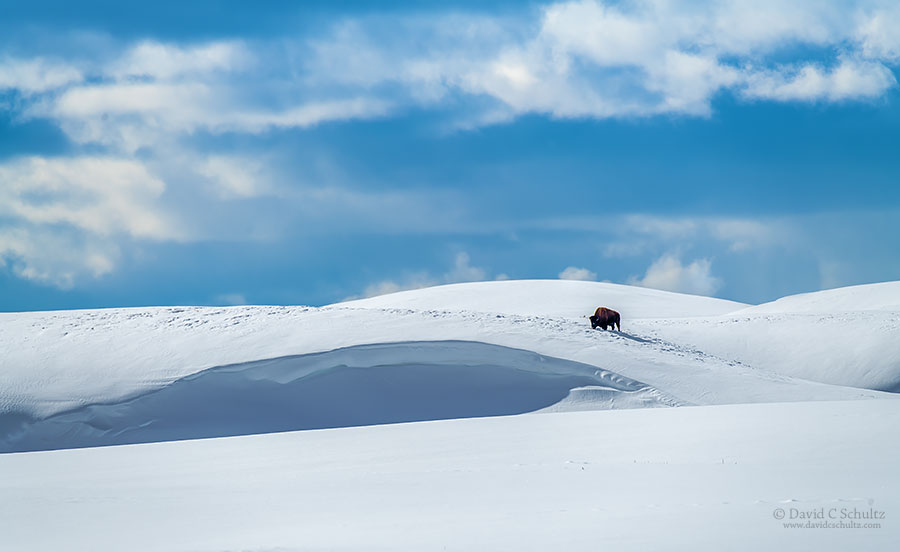 This is also a region in the Park where the bull bison tend to hang out, as they're typically large and strong enough to burrow down into the deep snow. They're in search of the remints of grass that now has the nutritional value of cardboard. The cows and younger bison that would be found in this valley during summer and fall have mostly migrated across Yellowstone National Park and into the thermal regions to the west. The "grumpy old men" prefer their solitude.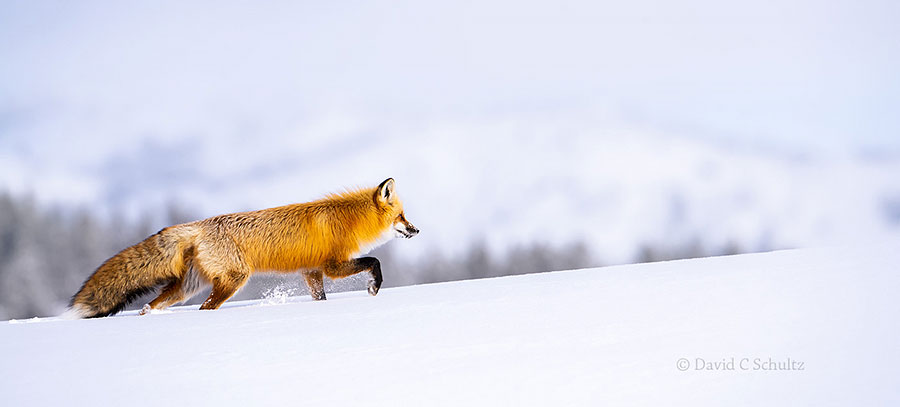 A red fox on the hillside of Hayden was making quick time to reach another hunting spot, or perhaps a place out of the wind. This coyote hung around along the edge of the mostly frozen Yellowstone River, keeping a close eye on this flock of mallards, at least until they felt they'd pressed their luck enough and took flight.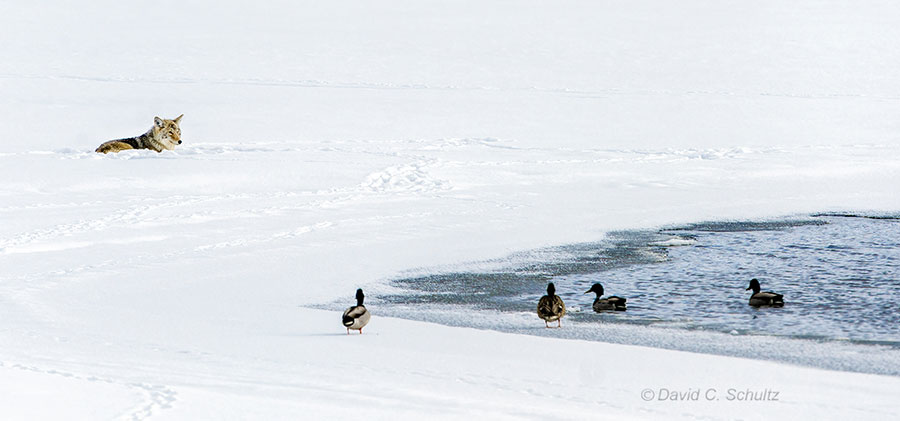 Along the Yellowstone River
So I led thirteen Winter Wildlife in Yellowstone photography tours last season, spending more than two months shooting and exploring. It was a wonderful experience to see the day-to-day activity and experience the vast changes in weather. We were out in all kinds of weather and even had several beautiful sunny days of shooting. We might be in one area of Yellowstone in the morning and then, by just driving from the Canyons over to Norris Geyser Basin, we'd go from clear and sunny to complete white-out conditions.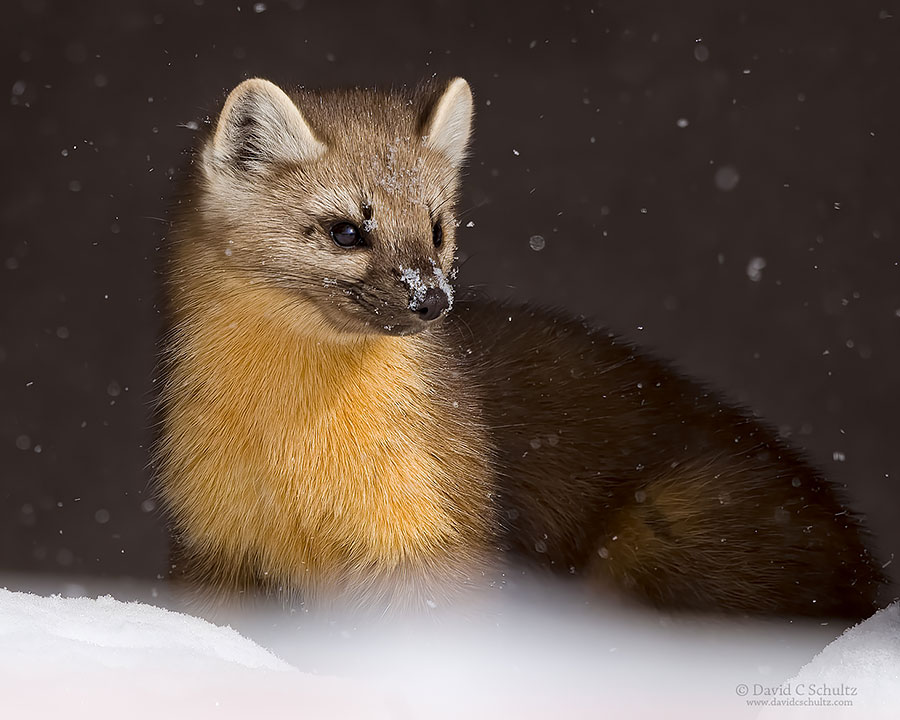 This last image shows one of three pine martens we saw and photographed last winter. Up and down the trees, running around the tree trunks, then leaping from branch to branch before taking a dive into the deep snow. This made for a real challenge for the Nikon Z7ii and its autofocus system, as well as for me! Here's a link to my winter photography gear list, which helps you prepare for Yellowstone and any other cold-climate photography conditions.
Due to a last-minute rescheduling by a guest, I have one spot left for my Winter Wildlife in Yellowstone photography tour. I hope that you'll consider joining me on this trip on Feb. 13–18, 2022, or book a date in the 2023 season. Those tentative dates have now been posted.
---
You might also like